Description
Product brochure
Send your design to the machine with a single click
Thanks to the new WiFi Connector
Wireless transfer of designs
So easy and convenient
The BERNINA WiFi Connector is developed to wirelessly transfer your embroidery designs. This seamless process enables you to do all your creating on the computer and then send it to your embroidery machine for stitching. Whenever your embroidery design is ready for stitching out, you just start the process with a click.
Easy installation
Improved installation process
Easy and flexible!
Use software on multiple computers
Installing BERNINA Embroidery Software 9 has never been easier or more flexible thanks to the improved installation process. In a snap, the software is installed on your computer. Plus, you can use the software on multiple computers just by signing in and out.
Neat and smart home screen
With helpful tutorials
Direct access to the online help
Browse through new projects
Upon opening BERNINA Embroidery Software 9 you will notice an informative and interactive home screen that offers links to tutorials, new projects and resources.
Customize anything you want
Alter embroidery designs limitlessly
Special fill effects, change colors, etc.
New Branching and Weld tools
Alter an embroidery design according to your desires and without limits. The Full Editing feature offers the new Branching and Weld tools. With the Branching tool you don't have to think about the most efficient stitching sequence and connectors as this function does it for you. Digitizers often want to combine or weld objects into a single object which is easy with the new Weld tool.
Create your unique graphic designs
With the newest version of CorelDraw
Choose from many designs
Afterwards send it to the WiFi Connector
If you wish to start with a new graphic, simply open the newest version of the graphic program CorelDraw SE – and get your own drawings in a breeze. Many new graphics have been added that you can choose from. Once the design is open use the new features to have fun creating, editing and designing your personal embroidery design to prepare for sending it via WiFi connection to your embroidery machine.
Clear interface and improved features
Intuitive and easy to manage
Small or large icons for a perfect view
Open more than one design at a time
All the incredible software features are easy to use and navigate with the user-friendly interface. The menu is intuitive and easy to manage. You have the choice between small or large icons for a perfect view and the tool names and functions can be displayed if desired. Open more than one design at a time and easily switch between designs.
Digitize your handwriting
And expand your lettering capability
Type alphabet designs on screen
Five additional Keyboard Design Collection fonts
Thanks to the new Keyboard Design Collection, you can expand your lettering capabilities limitlessly. With this versatile new feature, you can map existing alphabet designs to the keyboard, so you can type them directly on screen. No more combining designs one by one! You can even digitize your handwriting or your own alphabets from scratch! Furthermore, five additional Keyboard Design Collection fonts are included.
Easy positioning
Move and rotate the design
For a perfect embroidery placement
Advanced preview options
The positioning feature makes it easy to place designs where you want them. Just set the design worksheet and add a template to your preview, then move and rotate the design within the hoop and use the advanced print preview options. Use the hoop template and basting stitch markers for the exact positioning.
Your favorite image as embroidery design
Updated auto-digitizing
Enhanced manual digitizing
Few clicks, ready to stitch!
Take artwork and turn it into an embroidery design – all done by using the powerful, updated Auto-Digitizing and Manual Digitizing tools. In just a few clicks your artwork is ready to stitch. With Manual Digitizing you can create your embroidery design from a sketch and digitize it manually. This allows even more flexibility right from the beginning.
One-of-a-kind appliqués
With just one click
Convert any closed shape
Create appliqué even with holes
Enjoy the extended tools to create appliqué and convert any shape into an appliqué design with just one click. Even creating appliqué with holes inside is possible with ease. Want to cut the fabric with the CutWork tool or a cutting machine?
No problem as you can save an extra cutting file directly from the embroidery canvas.
Choose from many built-in font designs
Over 100 embroidery fonts
Suggested size is already included
Use True and Open type fonts
With the BERNINA Embroidery Software 9 you will get over 100 fonts – with some modern handwritten style fonts included. To ensure the best quality, the recommended size for each font is displayed in the dialog box. And there are even more improvements: The font preview size is now changeable from small to large. The font selection window shows recently used fonts at the bottom for more ease of use.
Manage your designs in the design library
Browse through various designs
Load your designs into the library
From library to WiFi Device in one click
This powerful integrated design library ensures quick access to all designs and provides enhanced design management. It makes it easy to browse, group and search for designs or get inspired. From here you can also directly send your designs to the BERNINA WiFi Device for stitch-out.
3D Embroidery
Embroider your favorite photo
3D effects for embroidered letters
Enhanced CutWork function
The Color Photo Stitch and Automatic Digitizing features turn your favorite photo into a detailed embroidery design in just a few steps. With Puffy Lettering add outstanding 3D effects to embroidered letters and with the enhanced CutWork function create beautiful Eyelet Embroidery and Appliqué. The Globe Effect turns flat embroidery into a 3D design and with Couching create stunning 3D effects in combination with wool.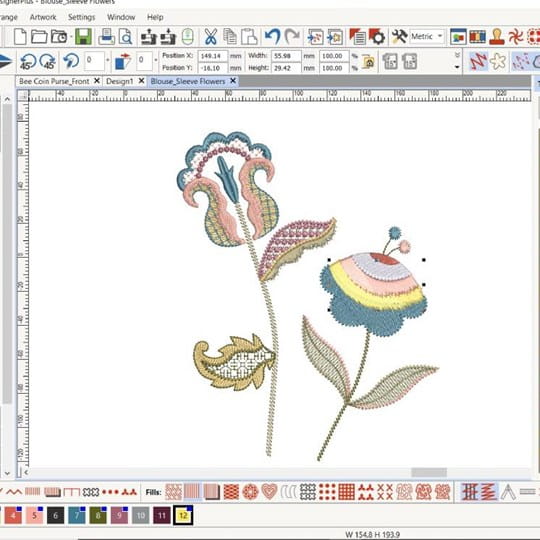 Color management
Pick your color in the Color wheel
Huge color palette (56 + 3 appliqué)
Fill objects as you wish
Palette positions are numbered for easy reference within the Color Management system and the color wheel features a range of color options. It has never been easier to pick the right color and fill objects with the help of the numerous colors within the palette (56 + 3 appliqué). The chosen colors are tagged with a blue marker.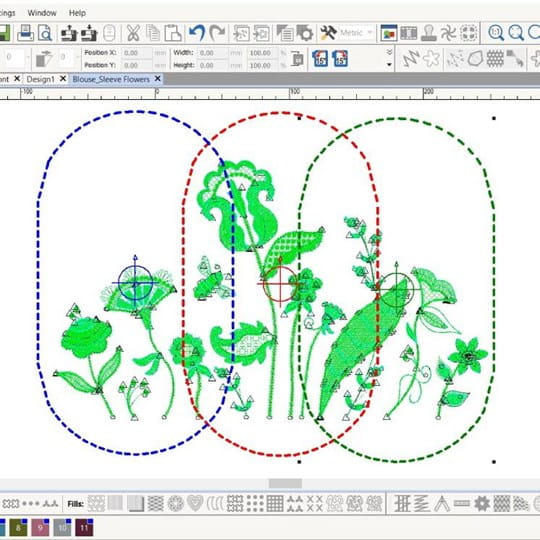 Multi-Hooping
For very large designs
Cover the entire design
Preview hooping sequences
Creating large designs is simple using the Multi-Hooping feature which automatically places more than one hoop when necessary. It places hoops to cover the entire design, fitting as many objects as possible into each hoop position. You can preview all hooping sequences and save it as a complete design or as separate multi-hooping machine files.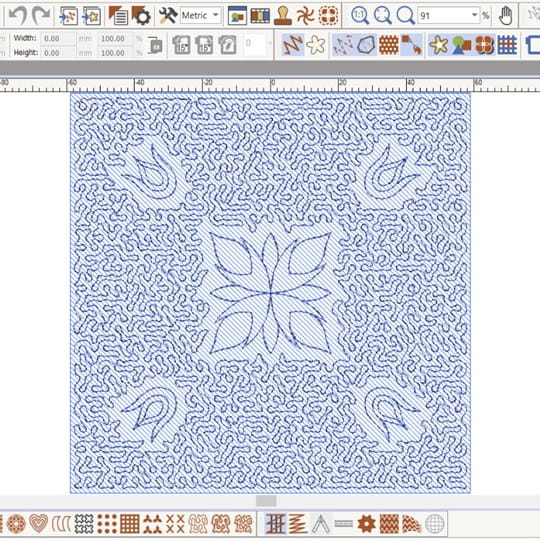 Embroidering on quilts
Create echo quilting designs
Get help with the block sizing and positioning
Easy embroidery on quilts
Embroidering on quilts is also easy with the Automated Quilt block layout feature. The automatic quilt background stitching is used to create "echo" quilting designs, like scroll-clipped or stipple-filled quilt blocks. The best part: you will even receive quilt block sizing and positioning aids.
System Requirements – Recommended :
CPU: Intel® Core i5/7 processor or AMD Ryzen 5/7
Operating system: Microsoft® Windows® 10 (64-bit Edition) with latest Updates
Memory: 16 GB
Monitor: 1920 x 1080 screen resolution
USB port: Required for software installation, transfer of designs and configuration of WiFi Device
Sound card: Required for online video help
Internet connection: For product activation and registration