Description

Release details
DATA
Petrel 2022.2 delivers major performance improvements when connecting to Studio E&P knowledge platform and initializing Studio platform tools, as well as when interacting with filters, data tables, and dialog boxes. In addition, when prolonged queries are initiated from the repository data table, navigating to another data tab or swapping between repository filters before the results have been returned will now correctly suspend the query. It will no longer continue to consume SQL Server resources in the background.
SEISMIC INTERPRETATION
Petrel 2022.2 offers further enhancements in the way the movement of composite, arbitrary line, and vertical intersections can be locked or unlocked.
Live Collaboration on seismic horizons, 2D and 3D interpretation, regular surfaces, points, polygons, faults, and fault contacts is now enabled and available on premises. New objects added to a collaboration session or edited while joined to a session are automatically created and updated in other projects joined to the collaboration session.
With QI machine learning, facies can now be predicted from elastic and petrophysical properties. The facies prediction model is trained on well log data and can be applied to well logs and seismic input volumes.
High-frequency analytical and statistical wavelets with sample rates less than 1 ms can now be generated to use with ultrahigh and high-resolution seismic data.
GEOLOGICAL INTERPRETATION
Petrel 2022.2 delivers improved performance when displaying and moving many wells and large surfaces in a map window. This applies also when a user is switching between multiresolution and high-resolution surfaces. In the well manager, performance is also improved when large number of checkshots, logs, or both are displayed, as well as for raster digitization process.
Depogrid geometry and properties can now be displayed as background in the well section window through the well section template settings.
The log editor can now be used under workflow editor, and variables can also be added to more fields within the make edit surfaces process under the workflow editor.
All the well tops collections can now be displayed in well data browser. The points outside of the filtered area can now be hidden in the histogram window, and the files with ".DRA" format can be imported into Petrel platform.
STRUCTURAL AND RESERVOIR MODELING
Petrel 2022.2 provides more flexibility when running structural gridding to generate a depogrid. Additional options have been added to limit the grid based on a selection of continuous zones, or the depospace extent, significantly reducing grid size and grid creation time.
Variograms and variogram maps can now be extracted directly from depogrid properties, in addition to the comprehensive geostatistical analysis tools already supported through the data analysis module.
Facies user-defined objects, which were limited to training image grid, can now be used to directly generate facies and training image properties as input for multipoint simulations in any grid.
GEOMECHANICS
Petrel 2022.2 offers great new solutions for making and editing geomechanical grids. When embedding a source grid into a geomechanical grid, it can now directly be coarsened in this process and existing properties are upscaled automatically. Minor geomechanical grid updates now preserve existing grid properties.
Further improvements include a simplified user interface for populating mechanical properties, an option to use a secondary reservoir grid as an input for coupled simulation, a new export feature for simulation results in selected areas of interest, and improved support for Petrel platform workflows.
RESERVOIR ENGINEERING
Chemical reactions for compositional and thermal fluid in the reservoir can now be modelled in the Make fluid model process. Users can define reactions in one-way or equilibrium form between components in the gas and oil phases and water.
Thermal fluid modeling improvements include visualization of enthalpy and viscosity interpolation method selection.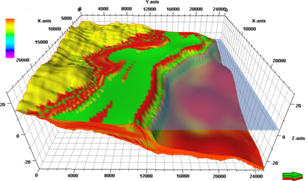 Improve reservoir prediction in clastic and carbonate sediments
Accurate and comprehensive quantitative interpretation.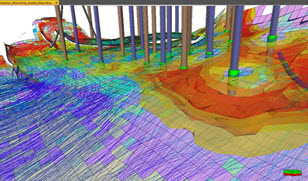 Calibrate your reservoir models for more accurate and robust recovery forecasts
Disciplines working together
Integration at the data level is the foundation for enabling multi-discipline integration. This integration allows the capture and preservation of knowledge, from exploration to production—from the petroleum systems modeler to the reservoir engineer and beyond, all contributing to a shared vision of the subsurface. Whether you are working on your first deepwater exploration well or delivering a comprehensive drilling program in a shale play, the Petrel platform enhances multidisciplinary workflows.
Access to best science
Traditionally, applying the right science has meant supporting many disparate applications—isolating the knowledge and disrupting the workflow. The Petrel platform provides deep science across the spectrum—from prestack processing to advanced reservoir modeling—to assisted history matching, and much more. Furthermore, the Ocean software development framework creates advantage by putting the industry's best science inside the Petrel shared earth model—directly into the hands of your teams.
Increased workflow productivity
In an increasingly volatile industry climate productivity is key. The Petrel platform supports automated, repeatable workflows, to capture best practices and share them across the organization. New data is easily incorporated, keeping the subsurface live and current. Embedded cross-domain uncertainty analysis and optimization workflows enable straightforward testing of parameter sensitivity and scenario analysis.
The embedded Studio E&P knowledge platform improves productivity with multiuser database access and collaborative work sessions with team members across the enterprise. The Studio platform lets you capture more than just data—it allows you to store and share the knowledge of how a result was accomplished.
Top New Features
Combined Core
The power and domain science for full subsurface studies—enabling a comprehensive analysis of uncertainty.
Geoscience Core
Full integration of all subsurface data in a unique platform, offering 2D and 3D flexible canvases.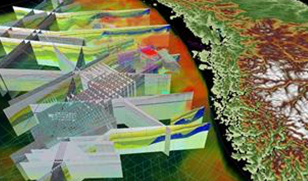 Geophysics Core
The complete and comprehensive geophysics package.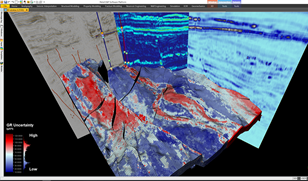 Machine Learning for Property Modeling
Rapidly deliver more efficient reservoir models with the increased confidence to make better decisions.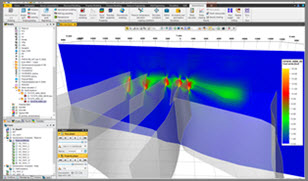 Generate VISAGE ensembles from Petrel
Get quantitative assessment of geomechanical uncertainty.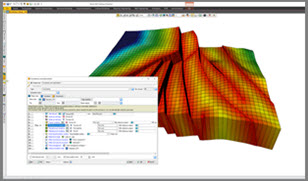 Faster depogrid simulation exports
Dramatic reduction in data footprint and runtime.
Description
Petrel is a product of Schlumbergers integrated software for studying and solving all underground challenges including interpretation of seismic information and reservoir simulation. Patrol provides an integrated process for developing and monitoring static and dynamic reservoir models, thereby eliminating all communication problems between different software for the development and separation of these models and avoiding mismatches of input data at each step or loss. It prevents them from interfering with data exchange that occurs when using different software.
Features and Features of Schlumberger Petrel Software:
– All the tools needed from Seismic Interpretation to Repository Simulation are integrated into one integrated software that eliminates all the problems of import / export data between software.
– Extremely powerful 3D display data
– Ability to update very fast when new data is entered to make decisions faster and more secure
– Ability to copy / paste results and data into any Windows application for easy and fast reporting.
– User-friendly graphical interface with undo / redo capability and model history storage for easier use and learning
Petrel Software Features:
Cooperation and communication of different disciplines
It takes a while to realize that integration is essential, yet data integration is just the beginning and requires a thorough integration of business processes to get a detailed insight into repositories with complex structures. This has led to the protection and absorption of information from exploration to production or, in some cases, from oilfield modelers to reservoir engineering and beyond, leading to a shared vision of the underground reservoir. Whether the user is exploring deep water wells or developing a shale rock drilling program, petrel provides multi-disciplinary rotational capability.
Easy and easy access to various sciences
In the past, proper and proper application of the sciences meant the preparation and use of different applications and the separation and isolation of different sciences. Petrel brings together a wide range of sciences, from tank modernization to computer processing to prestack and modeling with the help of history matching, and in addition to the petrel software development ocean, the ocean enables the use of existing and existing petrel capabilities for further development and use. To the development teams.
Increase workflow efficiency
Given the increasing need for industry to increase the efficiency of complex repositories, increasing productivity is essential. The petrel software supports a repeatable and automated workflow to achieve best practices / outputs for sharing across the organization. New data are readily incorporated into the models, leading to the ever-updating of existing models from underground repositories.
Uncertainty analysis and workflow optimization make it possible to test and test the sensitivity of various parameters and scenarios. The new studio has increased productivity by providing databases that allow multiple users access and enable model-based collaboration across the organization.
System Requirements
Windows 10 / 11
With the Drillbench 2022 release, the technology has been streamlined to a suite of three individual offerings that represent the main stages of well control: primary, secondary, and tertiary.
The Blowout Control module is now built upon the latest OLGA engine, which brings transient non-Newtonian three-phase modeling to deliver a unique level of sophistication and resolution to our drilling engineering software. Other important updates include a major improvement of the mud gas separator functionality in the Dynamic Well Control module and an upgrade of the dual-gradient drilling simulation feature in the Dynamic Hydraulics module.
The new Drillbench 2022.1 contain general improvements and fixes valid for all applications. In addition to the upgrade of the application platform, there are also many application specific improvements and fixes.
New Graphical Profile
Drillbench 2022 uses a new graphical profile that is better adopted to new hardware. The intention is to improve the appearance on different types of monitors and displays from projectors to large, high resolution monitors.
Improved Survey Visualization
A new 3D survey visualization tool has been added to Drillbench . The new solution provides more details and is easier to use than previous versions.
An important improvement, is the ability to modify plot settings, styling and to adjust scaling. This is valuable to get better understanding of a complex well environment – in particular useful in the case of modelling a relief well in addition to the main well.
The configuration of colors and styling makes the view more detailed and better both for screen display,
presentations and in print.
Upgraded interface components and development tools
Drillbench development tools, compilers and thirdparty components have been upgraded to perform and display better with current versions of Windows. The newer components includes upgrades and bug fixes that adds to an improved appearance and performance of Drillbench 2022 compared to previous versions.
Improved Blowout Control
Many important changes has been made in the new Blowout Control that improves consistency and accuracy in order to provide even more value to our customers. A smoother installation and user administration process will also make the user experience much nicer with the new version compared to previous versions.
New OLGA engine
The OLGA engine has been upgraded to current OLGA 2021.1. A huge effort goes into improving the OLGA engine yearly – and in particular features needed for solving complex drilling related issues.
Performance
The simulations performed in a blowout scenario represent a quite heavy numerical solution, and may result in performance problems. Improved performance has therefore been a key focus area for many years. There are many factors contributing to the overall performance improvement we are observing, but the most important are:
• Improved and optimized the internal communication between application and engine as OPC has been
replaced with ZeroMQ.
• Improved grid definition tailored to drilling scenarios, avoiding small grid cells that sets unnecessary
constraints in time step and consequently speed
• Applying smart assumptions and limitations that are fully acceptable and tailored to drilling scenarios
• Preparing simulation files, removing unused elements
• Performance improvements achieved by the engine upgrade
• In cases where the small time steps are required to capture particular transient behavior, the time step
control speeds up to optimum as soon as the transient period is over and the same accuracy can be
achieved with larger timesteps. This feature has been significantly improved since previous version.
In total, these improvements gives up to 10 times faster simulations than previous versions. The improvement observed will differ from case to case, depending on the case complexity.