Description

PowerFactory 2017 SP6
DIgSILENT has set standards and trends in power system modelling, analysis and simulation for more than 25 years. The proven advantages of the PowerFactory software are its overall functional integration, its applicability to the modelling of generation-, transmission-, distribution- and industrial grids, and the analysis of these grids' interactions. With the version PowerFactory 2016, DIgSILENT presents a further step towards seamless integration of functionality and data management within a multi-user environment.
DIgSILENT PowerFactory is the most economical solution, as data handling, modelling capabilities and overall functionality replace a set of other software systems, thereby minimising project execution costs and training requirements. The all-in-one PowerFactory solution promotes highly-optimised workflow. DIgSILENT PowerFactory is easy to use and caters for all standard power system analysis needs, including high-end applications in new technologies such as wind power and distributed generation and the handling of very large power systems. In addition to the stand-alone solution, the PowerFactory engine can be smoothly integrated into GIS, DMS and EMS supporting open system standards.
Power Factory Highlights:
Economical all-in-one solution with broad coverage of state-of-the-art power system applications
Extensive and flexible modelling capabilities with rich suite of power equipment models and libraries
Supports all network representations and phase technologies, i.e. any kind of radial or meshed
1-, 2-, 3- and 4-wire (combined) AC and DC networks
Powerful network diagrams and graphic/visualisation features
Single- and multi-user environment with full support of teamworking, user accounting, profiles and flexible customisation
Unique data management concept including project versioning and archiving mechanisms, master/derived concepts with compare and merge tools
Unlimited opportunitites in process optimisation based on integrated scripting functionality
Rich interfacing and system integration options (e.g. GIS, SCADA, EMS)
Professional support via customer portal or hotline, as well as continuous product maintenance and development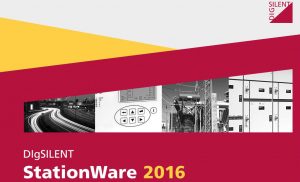 DIgSILENT StationWare provides a reliable central protection settings database and management system for the complete power system substation data, both to manage the various control parameters and to centrally store substation related information. StationWare is based on the latest .NET technology.
StationWare stores and records all settings in a central database, allows modelling of all relevant workflow sequences, provides quick access to relay manuals, interfaces with manufacturer-specific relay settings software, and integrates with PowerFactory software, allowing powerful and easy-to-use settings coordination studies.
Link to PowerFactory
PowerFactory's data exchange facility allows it to access the settings stored in StationWare, such that these may be used as input for the powerful PowerFactory system simulation and protection setting tools. Settings that are calculated by using these tools may then be transferred back to StationWare.
What is the idea behind StationWare?
Modern numerical relays have a large number of settings that are determined, stored and communicated by proprietary software solutions (these may even be suitable for only a particular manufacturer or even a series or type of relay). This results in a fragmented and distributed settings "database." DIgSILENT StationWare provides a single system that incorporates all such different device protocols, thereby providing one manageable software data storage system, based on modern IT techniques, facilitating data interfacing and exchange in a transparent and hassle free manner.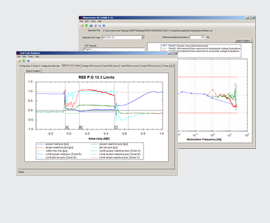 DIgSILENT has developed a new verification tool called DIgSILENT GridCode. The software has been designed in response to the need to verify whether a conventional or renewable power plant is compliant with local Grid Code interconnection requirements on basis of generating unit tests. There is a new trend towards verification of requirements at the point of interconnection of a power plant using transient stability simulations with numerical models. An increasing number of Transmission System Operators are including model validation methods to quantify the risk and uncertainty when using these simulation models in stability studies. These new methods have been included in the DIgSILENT GridCode tool.
The application can be automated and integrated into existing SCADA systems, but can also run on a workstation as an off-line verification tool. DIgSILENT GridCode has a new graphical user interface for easy navigation and generates customisable and automated reports in MS Word© format.
Among many others, DIgSILENT GridCode compliance verification functions are:
Low Voltage Ride Through (LVRT): Verification of generator response during balanced and unbalanced voltage dips, verification of voltage support requirements during the dip and after dip clearance, supervision of power plant non-disconnection and/or supervision of active power recovery according to the user selected grid code.
High Voltage Ride Through (HVRT): Verification of generator response during balanced and unbalanced voltage swells, verification of voltage support requirements during the swell and after swell clearance, supervision of power plant non-disconnection and/or supervision of active and reactive power recovery according to the user selected grid code.
Model validation: LVRT or HVRT simulation results are compared against field measurements according to the user selected method to check that both data series fit well. 
Power Quality requirements: Flicker and harmonic levels can be assessed according to classical International Standards (IEC-61000-4-15, IEC-61000-4-7) or according to specific methods for renewables (IEC-61400-21, TR3).
DIgSILENT GridCode key features
Data Viewer
Phasors Viewer
Check Grid Code Compliance
Model Validation
Flickermeter IEC 61000-4-15
Harmonics IEC 61000-4-7
Toolbox IEC 61400-21:

Single file Flickermeter
C(psi, va) – Flicker coefficients
Switching operations
Harmonics / Interharmonics /High Frequency Components
Harmonic distortion at PCC
Additional tools for grid code modifications and data series management:

Grid Code Editor
File Cutter
File Converter / Resampler
File Merger
Support of new Grid Codes:
ENTSO-e Network Code for Requirements for Grid Connection Applicable to ALL GENERATORS (26th June 2012).
China GB/T 19963 – 200, State Grid Corporation and China Electric Power Research Institute.
Germany: EEG: Renewable Energy Sources Act, measurement procedure by FGW – TR3 for medium and high voltage networks.
South Africa: "Grid Code compliance test for wind energy facility connected to transmission or distribution grids in South Africa" by Eskom.
Spain: Update to the new version 10 of the PVVC to check compliance with P.O.12.3 and P.O.12.2 (draft).
United States: Federal Energy Regulatory Commission: FERC661
New model validation methods:
IEC-61400-27-1 (CD1 2011.12.23): "Wind turbines – Part 27-1: Electrical simulation models – Wind turbines"
GERMAN FGW – TR4 (Rev. 5 – 2010.03.22): "Technical Guidelines for Power Generating Units – Part 4"
CHINA CEPRI (June 2012), according to the internal method "Wind Power Grid Interconnection Research and Evaluation Center"
New in the IEC61400-21 Toolbox for Power Quality analysis:
Harmonic total and individual distortion calculation at the PCC
Other features:
New graphical user interface, easy navigation with new menus and icons
Event classification: voltage dips, voltage swells, balanced or unbalanced events.
Shortcuts for fast access to configuration parameters.
DIgSILENT GridCode v2.0 Demo Version
The Demo Version of DIgSILENT GridCode v2.0 is a limited commercial version available for evaluation during a period of 30 days.
The Demo Version will be installed in your computer with the following capabilities:
Complete visualisation of main menu and execution of independent Grid Code modules (LVRT analysis, harmonic analysis, flicker…)
Execution and computation available for predefined input files.
Possibility of modifying the calculation parameters (rms rate, thresholds, etc.)
Grid Code editor is fully available; the voltage dip shape can be modified, active power and reactive power requirements in zones, etc. The resulting grid code conditions can be checked with the demo files.
Editing options as copy/paste graphs, export option to csv format, and other powerful edition capabilities.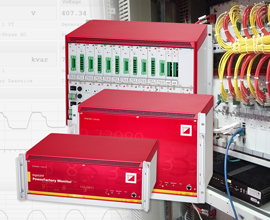 The PowerFactory Monitor (PFM) is multi-functional Dynamic System Monitor which fully integrates with DIgSILENT PowerFactory software. The PFM features grid and plant monitoring, fault recording, grid characteristics analysis by offering easy access to recorded data, analysis of trends, verification of system upset responses and test results.
Product Application
Unbundling of electricity supply systems and the introduction of new technologies in all areas of generation, transmission and distribution has made power system operation more complex. Supervision of generator performance according to Grid Codes and Connection Conditions, the stability supervision of large transmission networks at specific locations, verification of power quality criteria in distribution as well as the determination and analysis of key system parameters has generated the need for power system monitoring and grid supervision beyond classical fault recording and SCADA based trending systems. Under those aspects, wide area monitoring (WAM) via phase measurement units (PMU) is just one special feature out of all monitoring applications. The PowerFactory Monitor fully integrates with DIgSILENT PowerFactory software offering easy access to recorded data, analysis of trends, verification of system upset responses and test results.
Typical PowerFactory Monitor Applications:
Generation outage, load rejection and system frequency response analysis
Voltage stability monitoring and steady-state instability supervision
Power oscillation detection and analysis
System frequency control supervision, analysis and classification
Tie-line power exchange and network control characteristics
Control performance supervision and identification
Voltage dip classification and analysis
Power quality monitoring
Load parameter identification
Supervision of Connection Conditions and Ancillary Services
Wide Area Monitoring (WAM) via coordinated Phasor Measurement Units (PMU)
In addition to on-line grid supervising functions, the PowerFactory Monitor is an excellent high-end general purpose measurement instrument for all kind of plant tests typically performed to support device and plant modelling as well as parameter identification to allow for precise power systems simulation tasks.
Among these applications are:
Generator, motor and general feeder load tests and parameter identification
Power plant measurements and identification (AVR, exciter, PSS, turbine, boiler, hydraulic systems)
Determination of wind turbine characteristics and control behaviour
Optimal tuning of Power System Stabilizers (PSS)
The PowerFactory Monitor interacts perfectly with the DIgSILENT power system analysis software PowerFactory featuring seamless integration of system and plant tests, plant modelling and parameter identification.
Functional Overview
The DIgSILENT PowerFactory Monitor is an integrated, multifunctional data acquisition system that covers recording, monitoring and analysis of signals in all relevant time frames. It is especially designed to cover all needs of Transmission, Distribution and Generation on all voltage levels. Flexible hardware and software components allow for the configuration of portable systems, stand-alone cabinet mounted installations as well as LAN based multiple units, multiple location systems being coordinated and supervised via Master Stations.
Key functions which could be operated simultaneously are:
Fast and slow fundamental frequency signals recording (triggered and continuous)
Triggered instantaneous value recording
Phasor measurements
Event recording and power quality monitoring
Condition supervision and monitoring
Any quantity deviating from normal conditions is recorded and analysed. In addition, on-line analysis of signals is provided featuring the detection of inherent problems like system and control oscillations, deviations from connection conditions or power quality aspects. The PowerFactory Monitor is a stand-alone system including all necessary hardware and software functions for signal conditioning, signal conversion, data storage and processing, calculation and documentation. In addition, remote access is possible via modem, TCPI/IP networks, WWW and special SCADA interface techniques. Several monitoring systems can be synchronized to 1œs using GPS clock for precise parallel sampling, e.g. a basic requirement for system wide area phasor measurements.