Description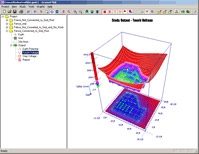 Benefits:
1. Design safer and more cost effective ground grids.
2. Save time with graphical entry and display.
3. Communicate designs more easily with professional reports and graphs.
4. Evaluate alternatives quickly and easily to establish an optimal design.
5. Save time with design wizard capabilities.
6. PTW GroundMat is an important tool every power system engineer should have.
Solution Algorithms:
Finite element analysis of the ground conductors.
Finite element analysis of the ground rods.
Grid conductor current displacement using Matrix analysis.
Analysis Options:
Earth model analysis from field measurements.
User specified fault current.
Grid and Ground potential analysis.
Ability to analyze multiple ground systems.
Ability to analyze the potential rise for each grounding system including neighboring passive grids or rods.
Safety analysis including surface materials, based on body weight and exposure time.
Option to use IEEE Std. 80 or IEC Std. 479 for safety analysis.
Calculation of maximum permissible touch and step voltages.
Comprehensive report for grid and rod configuration.
Comprehensive report for surface potential analysis featuring station data and currents diffused to ground by the grid elements.
Danger point evaluation.
Touch voltage, step voltage, and earth potential analysis.
Interface Options:
Create and store alternative designs with a simple copy/paste.
Data entry for grid and rods in spreadsheet format.
Data entry for earth model in spreadsheet format.
Grid/rod/profile wizards to setup initial system.
3D/2D representation of grid and rod configuration.
3D display of touch voltage, step voltage, and earth potential plots.
Report viewer for text reports.
Cut, copy and paste grid/rod segments in spreadsheet.
Range-checking for simulation parameters.
User-defined thresholds for danger area evaluation.
User-defined color coding for graphical safety analysis.
Metric and English units.
Group print function.
Project setup Options:
Stores multiple study revisions for each project.
Expanding tree structure to manage project revisions.
Input data and output results saved for each study.
Copy, paste and rename study revisions to compare alternative designs.
Run studies for multiple study revisions as a single action.